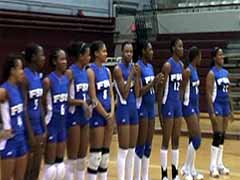 The North Carolina Central University volleyball
team defeated Fayetteville State University 3-0 (30-18, 30-12, 30-14) inside McLendon-McDougald Gymnasium on Thursday.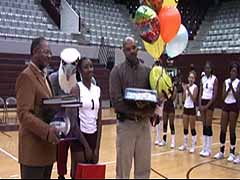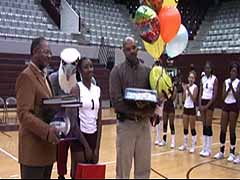 North Carolina Central recognized senior Utility player Latoya Tate on Senior Day. Tate, 5-7 from Toronto, Canada, handed out 30 assist in the FSU vs. NCCU game to become the 4th player in NCCU volleyball history to surpass the 1000 assists in a single season.
Hampton's Krystle Medlin and Norfolk State's David Kemboi were name 2005 MEAC Outstanding Performers. Medlin finished first in the women's race with a time of 18:34 and Kemboi finished with a time of 23:30 to win the men's race. See MEAC CROSS COUNTRY CHAMPIONSHIP SET FOR THIS FRIDAY
Albany State assistant Women's basketball coach Khadija Ali and Men's basketball coach Christopher Cameron preseason comments on Golden Rams 06-07 basketball.